Sampson Construction wins new library bid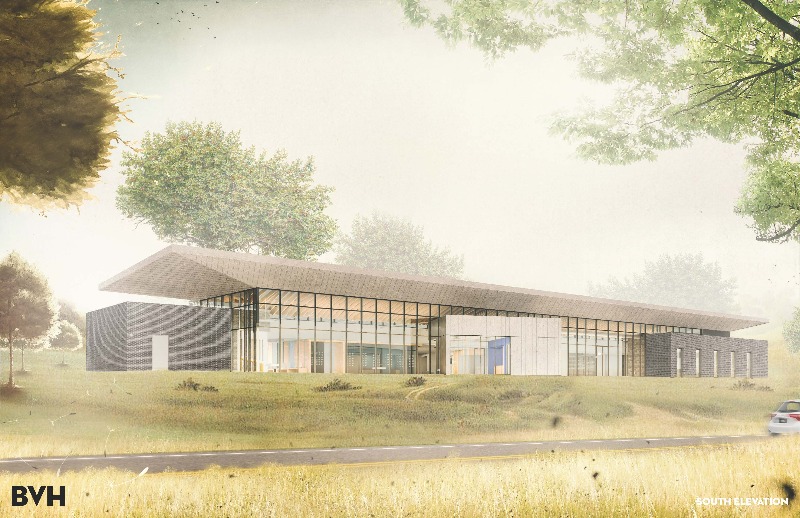 BVH Architecture rendering of the south face (from approximately 15th and Grove) of the new Crete Public Library.
The Crete City Council accepted the low bid of Sampson Construction at their regular meeting on Aug. 7, clearing another hurdle toward the new library and community building planned for the old hospital site.
After bids were accepted on Aug. 3 at City Hall, Mayor Roger Foster met with the City Administrator, Finance Director, and Clerk (grant writer) to review the numbers and seek recommendations on how to proceed. Sampson's bid of $5,559,000 was ahead of Hampton Enterprises at $5,670,800. Four additional bidders included Cheever Construction, Lacey Construction, Inc., Genesis Contracting, and NGC Group.
Foster asked City Administrator Tom Ourada to review project funding with the council at the Aug. 7 meeting confirming the city is able to fully fund construction activity of the building. Fundraising is ongoing to complete the furniture, fixtures and equipment budget, a task that can be accomplished in time to meet the project's needs. The library has already received significant donations and grants toward the project, including funds which will include naming rights for established areas within the facility.
BVH Architecture's design for the 20,000 square foot project planned for Fall 2019 completion includes the new library with youth, adult and technology spaces, separate community room, as well as a new park, all on the city block bordered by 15th and 16th Streets and Forest and Grove Avenues. The community room space will double as a community storm shelter.
The current library on East 13th Street was built in 1915 with an addition constructed in 1985. A feasibility study deemed the structure to have accessibility issues for both people and technology, space limitations for growing programming needs, and maintenance concerns. The library and associated programs host nearly 10,000 visitors annually who access print and digital resources and many programs are held off-site in larger venues.
For information and continued fundraising on this project, see the library's New Library Building Updates section.