Outreach and Curbside Delivery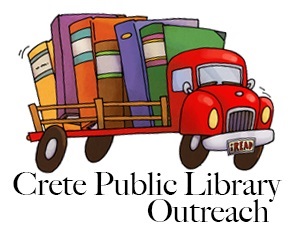 For many years, Crete Public Library has provided outreach services for the elderly and the homebound in the community. Programs are provided on a weekly basis at The Gardens, Tabitha, Premier Estates, and Centennial Terrace. In addition, books and other resources are delivered to those patrons who are unable to attend the library.
In an effort to reach even more patrons who may benefit from the library's outreach efforts, the Library is now offering curbside delivery for those elderly and disabled patrons who find access to the library physically challenging. Patrons may park in the library's parking lot and staff will deliver resources to them.
Patrons are encouraged to call the library before 1:00 P.M. on the day they would like to pick up resources. Patrons can request specific titles or library staff will be glad to help with suggestions.
Pick up time for resources will be decided upon between the library staff and the patron. A current library card is required for all patrons using this service.
Call the library at 402-826-3809 for more details.