What's New
The most popular books at the library of 2017
Adult Fiction Adult Biographies
Title Author Title Author
The Nightingale Hannah Diary of a Young Girl Frank
Turbo twenty-three Evanovich Glass Castle Walls
Watch Me Disappear Brown Alexander Hamilton Chernow
Echoes in Death Robb I Walked the Line: My Life with Johnny Cash
Small Great Things Picoult America's Mistress: The Life and Times of Eartha Kitt Williams
Adult Non-fiction
Title Author
The Subtle Art of Not Giving a F*ck: A Counterintuitive Approach to Living a Good Life Manson
Hidden Figures: The American Dream and The Untold Story of the Black Women Mathematicians Who Helped Win the Space Race Shetterly
Killers of the Flower Moon: the Osage murders and the birth of the FBI Grann
Pocket Idiot's Guide to Spanish Phrases Stein
MacArthur's Spies: The Soldier, The Singer, and the Spymaster Who Defied the Japanese in World War II Eisner
Adult Audiobooks DVDs Large Print
Title Author Title Title Author
Shack Young Storks Plainsman Copeland
O Pioneers! Cather Despicable Me 2 Drifter Copeland
All by Myself, Alone Clark Paw Patrol - Marshall and Chase on the Case Quilter's apprentice Chiaverini
The Nightingale Hannah Big Hero 6 Maverick Copeland
Simple Genius Baldacci Zootopia Peacemaker Copeland
Picture Books Easy Readers Children's Chapter Books
Title Author Title Author Title Author
Explorers of the Wild Atkinson I Will Take a Nap! Willems Dog Man Unleashed Pilkey
This is a Serious Book Parachini Cookie Fiasco Santat Tales from A Not-So-Friendly Frenemy Russell
Hensel and Gretel, Ninja Chicks Schwartz I'm a Frog! Willems Big Nate Makes the Grade Peirce
Bedtime for Batman Dahl Today I Will Fly Willems Old School Kinney
Panda Pants Davies Watch out, Monsters About! Beecroft Diary of a Wimpy Kid: Double Down Kinney
Young Adult Spanish
Title Author Title
Red Queen Aveyard Inglés en 100 Días
Glass Sword Aveyard Peppa Juega Fútbol
Harry Potter and the Cursed Child Thorne Inglés al Minuto: Curso Acelerado
Thirteen Reasons Why Asher Peppa va a Nadar
Love & Gelato Welch Primera Fiesta de Pijamas de Peppa
"Holiday Open House - Friday, 15 December from 11:00am - 1:00pm"

"All Original, All Nebraska"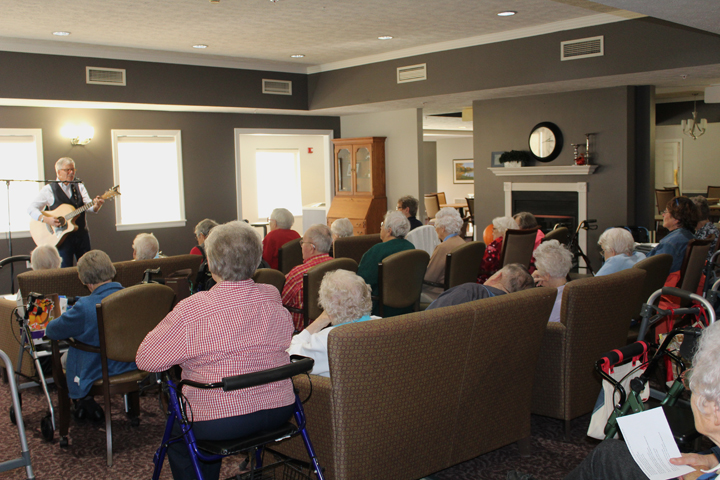 Dan Holtz, a recently retired professor of English from Peru State College, presented "All Original, All Nebraska" in honor of the state's Sesquicentennial on 2 November 2017 at the Gardens. This program celebrated and commemorated people, places, and events in Nebraska history through original songs (accompanied by guitar and harmonica) and the stories and background behind them.
Over 50 people attended this well-received program with many shoes a'tappin along with Dan. Thanks to the Friends of the Crete Public Library and Humanities Nebraska in sponsoring this program.
Community Input meeting for new library
The library architects, BVH, want to hear from the Crete community what their hopes, dreams, and desires are for the new building and park area. All are welcome to attend this upcoming Community Input Meeting.
When: 26 October 2017
Time: 6:00pm
Where: United Church of Christ (UCC) in the ARC area
Children are welcome and helpers will be in the Nursery to watch over the children.
Riders on the Orphan Train
Over 60 audience members enjoyed a wonderful performance of live music and storytelling at The Gardens on Monday, 28 August 2017. Alison Moore author of a historical novel, Riders on the Orphan Train, together with musician, Phil Lancaster, entertained and enlightened the audience.
Many thanks to Humanities Nebraska and the Friends of Crete Public Library for their support of this program.
The library to be open more hours!!!
Starting September, 6th, the library will stay open later on Wednesdays. Hours to be as follows:
Mondays, Fridays and Saturdays - 10:00am - 5:30pm
Tuesdays, Wednesdays, and Thursdays - 10:00am - 7:30pm.
Sundays - Closed
Unknown pages of American and world history
Have you ever read a book and exclaimed, "Gee, I didn't know that really happened!". Historical Fiction based on specific real-life events can be a great way to learn something from our past – in a colorful and interesting way. This week, we have listed some children's books based on real-life events that we feel our young readers will find enlightening – and they are all in the library!

Picture books
Pappy's Handkerchief, by Delvin Scillian – this story revolves around the Oklahoma Land Rush of 1889 when an estimated 50,000 people lined up for their piece of the available two million acres.
When Marian Sang, by Pam Muñoz Ryan – when African American opera singer performed in front of the Lincoln Memorial after the Daughters of the American Revolution had her barred from singing in Washington D.C.'s Constitution Hall because she was black.
The Case for Loving, by Selina Alko – when an interracial married couple stood up to the State of Virginia and the decision of the US Supreme Court invalidating laws prohibiting interracial marriage.
Amelia and Eleanor, by Pam Muñoz Ryan - Amelia Earhart and Eleanor Roosevelt did sneak off for an airplane ride after a dinner at the White House in 1933.
Separate is Never Equal: Sylvia Mendez and her Family's Fight for Desegregation, by Duncan Tonatiuh – long before there was the 1954 historic ruling in Brown v. Board of Education, there was the 1947 California ruling against public-school segregation towards Mexican-Americans in Orange County, CA.
Ruth and the Green Book, by Calvin Alexander – due to the paucity of places that would allow African-Americans to eat, stay or even pump gas in 1950's America, a book was created listing all of the places where black people are welcome – and it was called the Green Book.
Tsunami Quilt, by Anthony Fredericks – on April Fools Day, 1946, an 8.6 magnitude earthquake in Alaska's Aleutian Islands triggering a Pacific-wide tsunami with 45-130ft waves causing destruction on the east coast of the Big Island of Hawaii.
Chapter books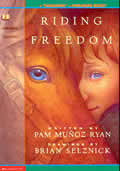 Riding Freedom, by Pam Muñoz Ryan - the true-life story of Charlotte Darkey Parkhurst in the mid-nineteenth century, who disguised herself as a boy at the age of 12 and ran away from a grim New Hampshire orphanage.
Silvia & Aki, by Winifred Conking – true story of two 3rd graders, Silvia Mendez (see Separate is Never Equal, above) and Aki Munemitsu who along with her family were relocated to a Japanese internment camp.
Fever 1793, by Laurie Halse Anderson – this novel takes place during the the Yellow Fever Epidemic of 1793 in Philadelphia, where 5,000 or more people died within a brief three-month period.
The Lions of Little Rock, by Kristin Levine – this novel chronicles the struggles that nine African American students endured trying to integrate Little Rock (Alabama) Central High School in 1957.
I Survived Series, by Lauren Tarshis – each of these short chapter books describe a real-life event from the battle of Gettysburg to the great Chicago fire of 1871.
Towers Falling, by Jewell Parker Rhodes and eleven, by Tom Rogers - both books describe living in the aftermath of the 9/11 attacks
Young Adult
Man Overboard, by Curtis Parkinson - this story is built upon the fact that German spies stole into Canada and America from submarines during WWII, but were quickly arrested.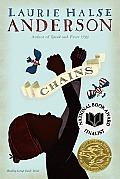 Chains, by Laurie Halse Anderson – did you know that slaves were kept by loyalists and supported the American Revolution when it would have been in their best interest to support the anti-slavery British?
Uprising, by Margaret Peterson Haddix – this book puts a face to the victims and survivors of the 1911 Triangle Shirtwaist Factory fire.
Making Bombs for Hitler, by Marsha Forchuk Skrypuch – children were "recruited" by the Nazi regime and forced to make bombs (because of their small hands); these slaves were known as Ostarbeiter.
The Year We Were Famous, by Carole Estby Dagg - this novel tells the true story of a mother and daughter who walked 4,600 miles across America – in 1896! – to raise money.
The Lightning Dreamer: Cuba's Greatest Abolitionist, by Margarita Engle – this novel chronicles the life of Gertrudis Gomez de Avellandeda who was a Cuban poet and abolitionist.
Salt to the Sea, by Ruth Sepetys - the largest loss of life resulting from the sinking of one vessel in maritime history occurred in 1945 off the cost of Nazi Germany with only 1,000 survivors out of 10.600 passengers.
Spanish language

El violín de Ada (Ada's Violin), by Susan Hood - the extraordinary true tale of the Recycled Orchestra of Paraguay, an orchestra made up of children playing instruments built from recycled trash.
Un Caballo Llamado Libertad (Riding Freedom), by Pam Muñoz Ryan - the true-life story of Charlotte Darkey Parkhurst in the mid-nineteenth century, who disguised herself as a boy at the age of 12 and ran away from a grim New Hampshire orphanage.
Lágrimas en el Mar (Salt to the Sea), by Ruth Sepetys - the largest loss of life resulting from the sinking of one vessel in maritime history occurred in 1945 off the cost of Nazi Germany with only 1,000 survivors out of 10.600 passengers.
Summer reading isn't just for kids!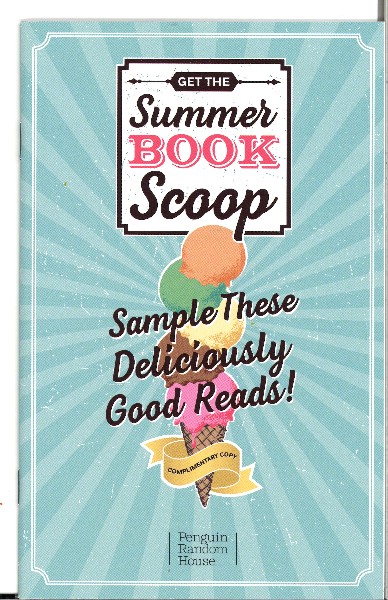 Most of us are aware of the research that shows that well-run summer learning programs
or children can mitigate summer learning loss and even produce learning gains. But what about us adults? While adults are not so concerned about mitigating reading loss, summer is the perfect time to put your feet up with an engrossing read.
Crete Public Library is the place to go for your summer reads. Look for the Summer Book Scoop display for these books specifically selected to be enjoyed this summer. In addition, most of these books are available from OverDrive in eBook and audio book formats.
The Little French Bistro, by Nina George – An extraordinary novel about self-discovery and new beginnings.
Do Not Become Alarmed, by Maile Meldy - A tropical vacation goes awry when two families go on a cruise and the children go missing. (CPL has audio book as well.)
The Fitness Junkie, by Lucy Sykes and Jo Piazza - An outrageously funny novel about one woman's attempt to win back her career, save her best friend, and lose thirty pounds.
The Sunshine Sisters, by Jane Green - A warm and wise novel about a mother who asks her three estranged daughters to come home to help her end her life.
Watch Me Disappear, by Janelle Brown - A mother with a troubled past vanishes while hiking, leaving her family to piece together her secrets.
The Shark Club, by Ann Kidd Taylor - A warm and wonderfully vivid novel about taking second chances—in life and in the sea.
Ten Dead Comedians, by Fred Van Lente - An homage to the Golden Age of Mystery and a thoroughly contemporary show-business satire.
Shadow Man
, by Alan Drew – A gritty thriller about an idyllic community rocked by a serial killer and a dark secret.

Funding Our New Library
Hello to book lovers and library fans –Crete Economic Development is busy fundraising for the new library. If you haven't heard the good news, our recent grant application to the Nebraska Department of Economic Development for Community Facilities funds was awarded. This grant provides us $375,000 in funding for construction. Building a new community library is a once-in-a-lifetime project, which makes it so exciting!! The current library was finished way back in 1915 and has served us well for over 100 years. Just think, the new library may very well still be serving our future generations in the year 2117.