Ourada gives downtown revitalization update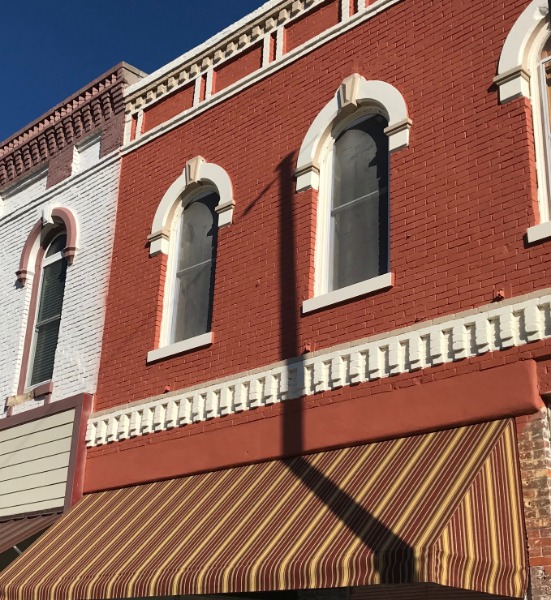 New awnings, paint, and brick restoration were key aspects to many of the projects in downtown Crete.
Through the current round of Downtown Revitalization (DTR) funding over $500,000 will have been spent for a total of 29 front and side facades in Crete's downtown district.
The above numbers were some of the highlights from City Administrator Tom Ourada to guests at the Crete Chamber of Commerce annual banquet on Jan. 24 at Doane University. Ourada spoke after Mayor Roger Foster presented the Cornerstone Award to Janice Belohlavy, honoring both her and late husband, Roger Belohlavy's contributions to growth and development in Crete.
In a recap of this round of the DTR program, Crete received $307,000 from the Nebraska Department of Economic Development for downtown facade renovations; $102,333 in matching funds was committed by the City of Crete LB840 Economic Development Program. A 20 percent match was provided by each property owner involved in an approved project.
When the City applied for DTR funding, program goals included improving the appearance of downtown, creating a sense of place, and promoting and preserving the historic character of downtown Crete. At the time of application, Crete had recently received approval for a nationally recognized downtown historic district.
Priorities in this rehabilitation process included removal of metal awnings and non-historic materials, new fabric awnings and upper story window replacement, and restoration of transom windows and brick.
Facade removal for approved properties began late last spring (2018) and 16 projects have been completed or are near completion. Six projects are underway to be completed early this spring and seven facades are estimated for finish dates by late summer. (See previous article on project progress.)
During initial removal of non-historic facade material from five properties, historic or original storefronts of some type were revealed, which had not been seen for decades.
Ourada said a project of this nature is not without its complications, one being working with newer staff members at SENDD (Southeast Nebraska Development District), which is overseeing the program for the City. Finding contractors who are eligible to work under the required state and federal regulations has also been a challenge.
Current City Clerk Judi Meyer is a former SENDD staff member and was hired by the City partly to administer projects of this nature and for her expertise in economic development. In the course of her work in the last year alone she has successfully written grants that have brought over $2 million to the Crete community.
The City is seeing the successes of other economic development initiatives having positives effects, namely recipients of LB840 grants, including The Brew House, Elle's on Main, Crystal's Bakery, and others. Ourada noted interest from the owner of an established Lincoln business who is considering moving operations to Crete due to activity and opportunity in Crete's downtown area.
The state has recently announced a renewal of the DTR program for a second round of funding and the City intends on applying in the hopes that property owners who did not apply before will consider this new opportunity. The City will share information on this next round as soon at it becomes available.
See more information on Community and Economic Development in Crete.