Fundraising updates and grant awards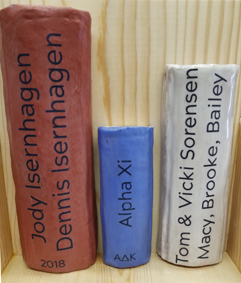 Update July 15, 2019: Project funded
The new Crete Public Library is now fully funded. The $7.4 million building has been funded by $4.2 million from the 2016 bond issue, $2 million from grants, almost $500,000 from individual donors, $250,000 from the Friends of the Crete Public Library and $150,000 from local corporations.
Grants and donations toward specific spaces/items:
Community room, Acklie Family Foundation (Crete Carrier Corp.), $150,000

Childrens room, Friends of Crete Public Library, $200,000

MakerSpace, Windstream, $50,000

Teen Room, Friends of Crete Public Library, $50,000

Outdoor Pavilion, Pinnacle Bank - Crete, $50,000

Meeting room, UBT, $20,000

Fireplace, Jim and Sharon Crouse, $15,000

Large study room, Nestle Purina, $15,000

Family Seating Area, Tom and Patty King, $10,000

Nebraska Seating Area, Bernice Černý Jeffries, $10,000

Outdoor bench - library, Mack Sack, $5,000

Outdoor benches - park, Bunge, City Bank & Trust, Ann Kelsall, Trinity Memorial Episcopal Church, $5,000 each
Additional grants:
Sherwood Foundation, $500,000
Robert B. Daugherty Foundation, $500,000
Peter Kiewit Foundation, $350,000
Sunderland Foundation, $100,000
Abel Foundation, $20,000
(The City of Crete and Crete Public Library held a ground breaking ceremony for the new library on Sept. 12 at the site - 1515 Forest Ave. Read more...)
Update Sept. 21, 2018: Fundraising committee receives book spines
The fundraising committee has received three book spines that can be viewed in the library. These are made by an artist and recent Wesleyan graduate. Over 30 Crete individuals, families and organizations have donated towards the new library by selecting their spines with their accompanying dedications.
Update June 25, 2018: Fundraising update for new library/community room
Fundraising efforts on behalf of the new library/community room are continuing apace. Prior to June 2018, the project received an anonymous $88,000 donation, as well as Union Bank and Trust (UBT) donating $20,000 towards the meeting room. Pinnacle Bank in Crete has donated $50,000 for the naming rights of the outdoor pavilion.
Windstream has been very generous with a $50,000 donation to have the name on the new technology room/MakerSpace. Jim and Sharon Crouse liked the idea of a fireplace in the new library so much, they decided to put their name on it with a contribution of $15,000. Support also comes from within the local community with a $5,000 donation from Bunge for the naming rights for an outdoor bench and Ann Kelsall and Mac Sack also donated $5,000 for the naming rights for a bench.
In addition to supporting the new library/community room, donors may be eligible to receive a Nebraska state tax credit. Donations over $10,000 will receive a 20% Nebraska state tax credit and donations from $5,000-$9,999 will receive a 10% Nebraska state tax credit.
A recent graduate with a fine arts degree from Wesleyan will be making the ceramic book spines. Over 25 donations for book spines have been received to date. These are available in three different sizes – 6" ($250), 8" ($500) and 10" ($1,000) inches and can be in the donor's name or another dedication. Book spine donations can be made over a three-year period. If you are interested in making a donation to this important community enhancement, please contact the library or email: cpl.newlibrary@gmail.com.
Update November, 15, 2017: Sunderland Foundation awards $100,000 to Crete Library project
Many thanks to the Sunderland Foundation for awarding $100,000 for the Crete Library/Civic Center construction. These funds, along with the community's approved sales tax funds and other grants and donations will allow the City to build the best library possible.
Update October, 10, 2017: Sherwood Foundation awards $500,000 to Crete Library project
The first week in October, the City of Crete was awarded $500,000 from the Sherwood Foundation towards construction costs of the new library. A big thank you to Sherwood for valuing, supporting, and celebrating rural communities in Nebraska.
Update July, 6, 2017: Library and Civic Center project - grant award
The recent grant application to the Nebraska Department of Economic Development for Community Facilities funds was awarded. This grant provides us $375,000 in funding for construction. Building a new community library is a once-in-a-lifetime project, which makes it so exciting. The current library was finished in 1915 and has served well for over 100 years.