New Library Queries and Comments
Crete Public Library staff will provide updates regarding the new library. In addition, we will do our best to respond to queries and other comments about the new library. (View the current planning and construction timeline.)
Update: September 12, 2018
The City of Crete and Crete Public Library held a ground breaking ceremony for the new library on Wednesday morning at the site - 1515 Forest Ave. with the event also Live on the City's Facebook Page. Read more...
Update: August 7, 2018
The Crete City Council accepted the low bid of Sampson Construction at their regular meeting on Aug. 7, clearing another hurdle toward the new library and community building planned for the old hospital site.
After bids were accepted on Aug. 3 at City Hall, Mayor Roger Foster met with the City Administrator, Finance Director, and Clerk (grant writer) to review the numbers and seek recommendations on how to proceed. Sampson's bid of $5,559,000 was ahead of Hampton Enterprises at $5,670,800. Four additional bidders included Cheever Construction, Lacey Construction, Inc., Genesis Contracting, and NGC Group. Read more...
Update: May 16, 2018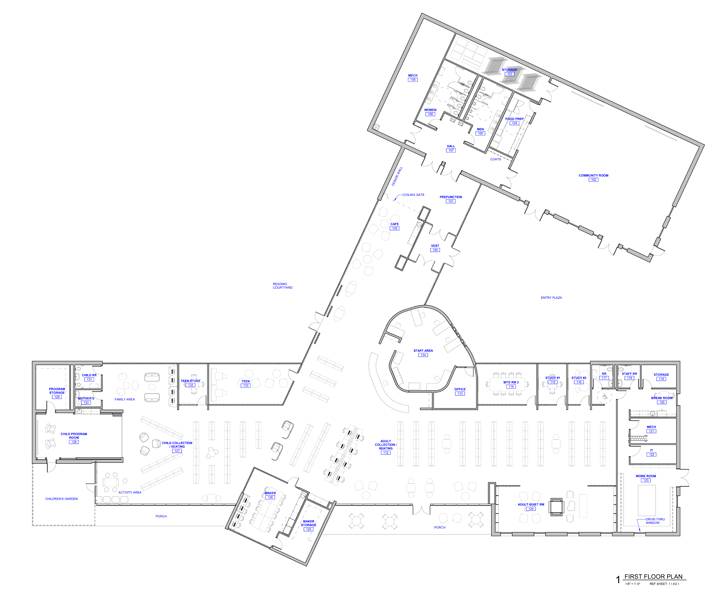 Revised floor plan of the new library and community room/storm shelter.
Highlights of the new building include:
Common Areas
Community Room, seating for:

159 people in chairs

80 people with round table
60 people with rectangle tables

Catering kitchen in the community room
Café with vending machine and coffee
Drive up window for drop off and collection of new material
Donor walls
Fully ADA compliant
MakerSpace/Technology Room
Youth areas
Children's Program Room
Teen Room
Teen study area for four people
Child's restroom
Mother's Room
Family seating
Children's activity area
Adult areas
Quiet Adult Area with Fireplace
Study Rooms (two person and four-person)
Meeting Room
Comfortable, southern-exposure seating
Outdoor areas
Courtyard/Festival area
Children's Reading Garden
Patio seating
Children's outdoor activity area/playground
Update: January 10, 2018
Take a drive by the old hospital to see it coming down a bit more every day. The Crete design committee met with the architects (BVH) to review their initial draft floor plan. BVH will revise the floor plan and after another review will present their design to the Crete Community on 1 March at 6:00pm at the UCC church.
Update: October 13, 2017
Thank you to all who attended the 26 October Community Input meeting. We know that the architects, BVH are appreciative of the Crete community's feedback to them regarding the new library / community rooms. Below is a partial listing of some of the wishes and suggestions the Crete community has for our new complex. Please note that while we wish to have all of these wonderful features and materials, many of these are dependent upon the amount of grant monies we receive as well as financial support from the community.
What is a traditional library?
Place to gain knowledge.

In the style of Carnegie.

Lots of wood.

Comfortable.
Library design suggestions
Open interior space

Lots of windows to exterior

Comfortable furnishings.

Attractive and inviting for people to gather.

Nooks or smaller spaces for more intimacy and privacy. Quiet

Fireplace

Separate areas for different groups – children, teens, study rooms
BVH will begin design and will present a final schematic design to the public at a similar public meeting sometime in mid-January 2018.